DNA Club Program
Introduction
The great variety of life on earth that has provided humans with all their needs since time immemorial forms a support system which has been used by civilizations for their growth and development. Our dependence on nature is so great that man cannot continue to live without protecting the earth's environmental resources.
Understanding the organization of plants and animals has helped in utilizing the earth's biological wealth for the benefit of humanity and has been integral to the process of 'development'. This includes better health care, better crops and the use of these life forms as raw material for industrial growth.
Biotechnology has emerged as an area of the future in recent years with immense potential to bring about human welfare and prosperity. It touches human existence in all its dimensions.
The children of today are the citizens and in many cases policy makers of tomorrow. It is important to inculcate in them an ethos of responsibility towards bio resources. Starting a program like the DNA Club program that seeks to proactively involve school children into a process that enhances the development of a better understanding of bio-resources and the role biotechnology can play in their sustainable management and utilization is a small but important step in this direction.
Objectives
To promote interest and knowledge about natural resources and the environment among the emerging generation.
To foster concern to protect bio resources and natural heritage
To increase awareness of the economic, cultural, scientific and aesthetic values of flora and fauna.
To provide opportunities to acquire values and skills needed to protect and improve the natural environment.
To make aware the impact that emerging technologies (including biotechnology) have on maintenance and enhancement of bio resources.
The Institute of Environment Education and Research, Bharati Vidyapeeth (Deemed to be University) (BVEER) has been appointed as the Regional Resource Agency for the DNA Club Program by the Department of Biotechnology, Government of India for the states of Maharashtra and Goa.
Design of the Program
The program includes the following components:
Teacher Training Workshops
School based programs
Vacation Training Programs
Support through locale specific material
Regular monitoring and evaluation
Implementation of the Program
Details of modules conducted in the schools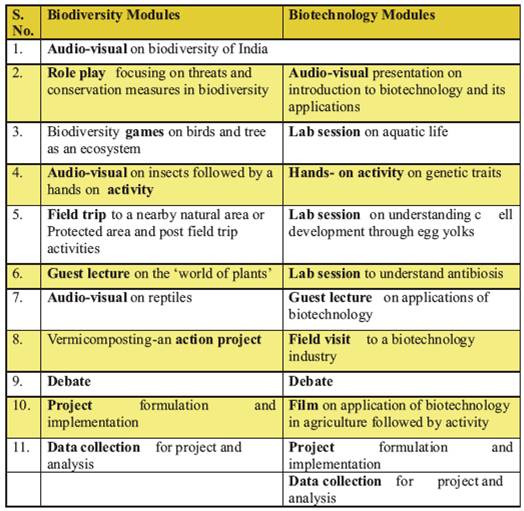 The DNA Schools
DNA Club Schools - Maharashtra
S. No.
Name of the school
Name of the Principal/Headmaster
Name of the teachers
1a.
Abhinav Vidyalay English Medium Primary School
Mrs. Madhuri Jeurkar
Nilima Bhandarkar
Mugdha Vinod
1b.
Abhinav Vidyalay English Medium High School
Mrs. Jayashree Pai
Charu Mathur
Vandana Bhagat
2.
Dr. Annasaheb Chobe High School
Mrs. Helen Anthony
Nidhi Samant
Nutan Kamble
3.
AES Ashokbhau Firodiya English Medium School
Mr. Nandkishor Bhavsar
Sailesh
Vaishali Wagh
4.
Holy Cross English High School
Sr. Jenifer Ferrero
Mukund Phulgirkar
Mahesh Shrisunder
5.
Little Flower High School
Fr. Walter Gonsalves
Rosemary Fernandes
James
6.
St. Lawrence High School
Ms. Nalini Datta
Aruna Luthra
Nirmala Dhuria
7.
Horizon Academy
Mrs. Kumudini Bangera
Kumudini Bangera
Trupti Gite
8.
Bhavarilal Samra English High School
Mr. Mohan Rathi
Shubhangi Bahad
Tessy George
9.
D.A. V. English School
Mr. Gopal Gawande
Rashmi Shende
Sunanda Sontakke
10.
Khandelwal English School
Mrs. Geeta Chandawankar
Geeta Chandawankar
Pradeep Kidile
11.
B.V. Kanya Shala
Dr. (Mrs.) Sindhu Kulkarni
Shyamala Lokare
12
Dr. D. R. Nagarkar Prashala
Mrs. Vaishali Kulkarni
Mrs. Dange
13
Maharshee Karve Stri Shikshan Santha's Vidyapeeth High School
Mr. Bhadakwad
Shubha Joshi
Mr. Kamble
14
Maharshee Karve Stri Shikshan Santha's Shishu Vihar
Mrs. Manda Borane
Snehal Dikale
15
Maharshee Karve Stri Shikshan Santha's Erandwane High School
Mrs. Anuradha Gokhale
Mrs. Balkawade
16
Maharshee Karve Stri Shikshan Santha's Erandwane Primary School
Mrs Kharat
17
St. Hilda's school
Mrs.Stela David
Rajlaxmi Naik

DNA Club Schools - Goa
S.No.
Name of the school
Name of the Principal
Name of the teachers
1.
Manovikas English Medium School
Mrs. Theresa Almeida
Latha Naik
Juliet
2.
Bhatikar Model High School
Mrs. Revathi Kane
Aparna Naik
Saluja Suhas
3.
A. J. De Almeida High School
Mrs. Vinaya Mavinkurve
Headmistress
Mrs. Savita D'Costa, Asst. Headmistress
Sushama Naik
Shital Kesarkar
4.
S.S. Samiti's Lokmanya Tilak Vidyalay
Mr. G.G. Deo

Shrikrishna Desai
5.
V.D. and S.V. Wagle High School
Mr. D.V. Talavnekar
Girish Nadkarni
6.
Sharada Mandir
Mrs. Nirmala Rebello
Anagha Mudholkar
Geeta Hosangadi
7.
L.D. Samant Memorial High School
Mr. Rajkumar Desai
Sarika Gurav
8.
Amonkar's New Goa High School
Mrs. Mabel deSa
Mabel deSa
Salita Banaulikar
9.
Shri Shraddhanand Vidyalaya
Mr. Madhukar Shingwi
Ram Mahale
10.
Jawahar Navodaya Vidyalaya
Mr. R.S. Naik
Vijay Bhondave
Sanjeet Singh
Programs conducted